Welcome to our
Hotel Sri Gemunu Beach Resort
Sri Lanka, pearl of the Indian ocean, is often called the "Garden of Eden". Our hotel is situated on the southern tip of this paradise.
We welcome you with the hospitality typical of our country, coupled with a special service and a unique informal flair.
The well-kept house occupies the best location on the border of the small village of Unawatuna and offers a fascinating view of the Indian ocean from every room.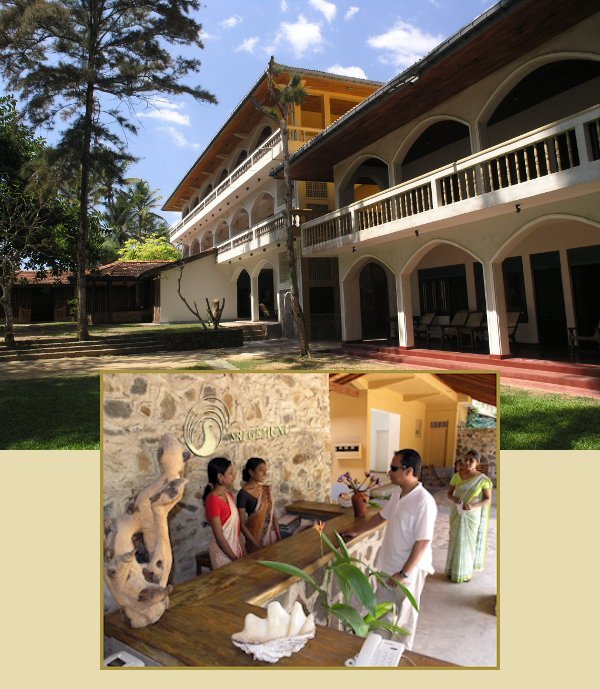 Secured by an offshore coral reef our beach offers secure swimming in the Indian ocean.
The location of the hotel can hardly be more beautiful: a lovely garden of 1.100 square meters, shadowed by coconut trees, situated directly at the marvellous beach of Unawatuna.
Undisturbed walks along the beach and through the countryside, the encounter of our ancient culture and much more ensure an unforgettable experience.
The sedately situated hotel comprises 2 buildings and offers 20 comfortable, well furnished rooms with shower/toilet and terrace or balcony.
The size of the rooms is about 18 sqm., all rooms have a view of the ocean, a WC and bath with hot and cold water, room telephone & aircondition; alternatively with or without minibar & SAT/TV.
Most of the rooms have an adjoining balcony of about 10 sqm. The economy rooms have a spacious common terrace/balcony, to be shared by 4 units.
Chalets & pool
For wellness and relaxation we created an intimated oasis about 10 minutes walk from the hotel with a recreation area, pool, Ayurveda treatment facilities and two chalets.
Swimming pool and recreation area are free of charge for our hotel guests.
If you would like to stay in this peaceful place, you may rent a furnished chalet.
You can call for an Ayurvedic specialist, have your health checked and will be provided with an individual treatment. Ayurveda is the "knowledge of a healthy and long life".
Hotel restaurant & meals
Our restaurant offers a range of Asian and international specialities à-la-carte, daily from 7 a.m. – 10 p.m.
Interesting breakfast variations, exotic fruits and exquisite curries guarantee a culinary experience out of the ordinary. Fish, lobster and other sea food are daily supplied by local fishermen, fresh from the ocean.
Occasionally we offer barbecues and buffet-nights with life music and life events. Our friendly service and superb food will make your stay an unforgettable one.
Weddings & celebrations
If you wish to celebrate your wedding or another event in Sri Lanka, we will surprise you with a wonderful arrangement in our house.
Whether it be classic, traditional or informal, we offer a romantic ambiance for all styles.
Legal information: Minimum period of stay before wedding: 96 hours.
Roundtrip & sightseeing
Sri Lanka has a long history dating back 2500 years, and is rich in its diversity of culture, landscape and tropical vegetation. Thus, it offers an enormous choice of sights and activities to suit all tastes, and the overwhelming hospitality of all Sri Lankans has always been a natural way of making guests feel like at home.
Therefore, Sri Lanka is an ideal holiday island often referred to as the Pearl of the Indian Ocean.
Experience the highlights of Sri Lanka on a round trip. We will be pleased to arrange tours to the fascinating interior of our country and give you hints about what you can explore.